We provide an all-inclusive service from creating contents for launching a global eCommerce website focused on the North America market to day-to-day operation.
Service Details
After developing a strategy for a website launch, we will initially work on "front-end" tasks which include 1) Product development, 2) Site design, update, management, 3) Promotion. Then, we will move on to the "back-end" tasks 4) Order process, 5) Inventory management, 6) Shipping 7) Delivery, 8) Customer service and follow-up service. We can also customize the plan you need according to your business situation.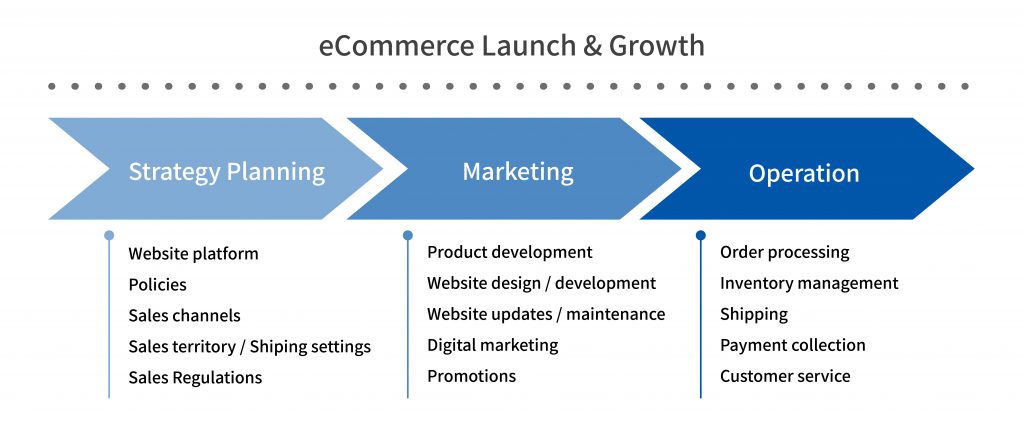 FAQ
Which platform do you use to build your eCommerce website?

We recommend Shopify, but we can build your website on any platform you'd like.
Is there a recommended platform for eCommerce website?

We typically use Shopify, and we recommend running the site on Shopify because of the usability of the platform and to utilize their SEO settings. Not only does it support IN-HOUSE eCommerce, but also helps increase sales as social media, Google shopping, Amazon, pop-up shops, etc. can also be managed collectively through Shopify. Many companies, from start-up sites to major global brands, use Shopify to operate their e-commerce sites and have a reputation for high server specs. You can easily customize the site by adding the design functions catered to your company's needs using various apps offered by Shopify. We're also here to consult you on what type of website platforms would serve you best. Please feel free to contact us for any questions or inquiries.
Do you offer a warehouse?

Our contract warehouses are located in California and New Jersey. We will send out the exact storing and shipping instructions, and they will make sure your entire shipping process will go smoothly by picking the products, packing them and handing them over to the delivery company.
Which carrier do you use?

UPS, FedEx, and USPS are the common carriers in the United States. We will automatically calculate the shipping cost in the warehouse for each order and use the cheapest delivery company. When shipping outside the United States we often use DHL as they are the most reliable when it comes to shipping overseas.